Unique Things to Do: A Guide to Unusual, Fascinating, & Off the Beaten Path Attractions
Paul Bunyan statue – A quirky roadside attraction worth stopping for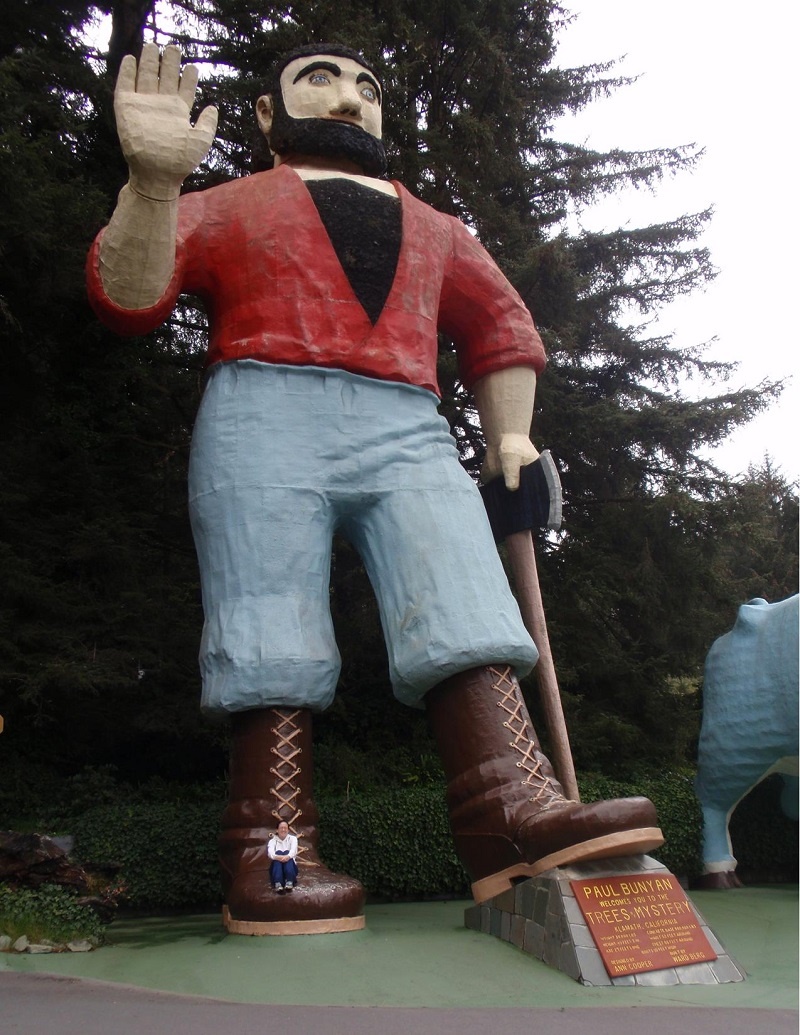 There are numerous statues of Paul Bunyan throughout the country, the most famous being the gigantic statue of Paul Bunyan (49 foot tall) with Babe the Blue Ox (34 foot tall) at the Trees of Mystery in Northern California. These statues are quite hard to miss as they dramatically pop out seemingly out of nowhere amidst the woods as you are driving along the 101.
Of course, there is no way you can resist stopping for a picture on the famous boot. As soon as you walk up, you will notice that even the boot itself is so much taller than you! Great photo opp here! And while you are here, you have to take a ride on the amazing gondola – trust me, it's worth it!
Location: 15500 US-101, Klamath, CA 95548
World's largest petrified tree
An Arizona oddity along I-40
As mentioned above, the Petrified Forest is one of the most interesting places to visit in Arizona. While you will get an up close look of this ancient wood at various locales throughout the park, the forest is surprisingly not home to the largest piece of petrified wood. Oddly enough, the largest petrified tree is said to be found on I-40 about 5 miles outside of the park at Geronimo Trading Post. Although other reports claim that the largest petrified tree is actually in Thailand.
Easily seen from the highway via a humongous billboard proclaiming "the world's largest petrified tree," it's impossible to miss. The massive 45 foot ton piece of petrified wood is so big that there is no way it can ever be physically moved. The gift shop offers lots of unique trinkets like Arizona and RT 66 memorabilia, along with petrified wood of all shapes, sizes, and prices. If you are heading out to the Petrified Forest, Geronimo's is a nice quick stop for a photo and browse around the gift shop, if anything just to stretch your legs a bit before getting back on the road.
Location: 5372 Geronimo Road, Joseph City, AZ 86032
Tumbleweed Christmas tree
A unique Christmas tradition in the Sonoran Desert
In Chandler, a quiet suburb of Phoenix, you will find a most unusual holiday tradition. The 60+ year tradition of putting up a special desert themed tumbleweed tree has been going strong since 1956. Starting in October each year, about 1500 tumbleweeds are collected, followed by a 2 week period spent constructing the frame, glittering and painting the tree, and adding decor. This is a really unique tradition, the last standing holiday tumbleweed tree in The Southwest, and definitely a sight to add to your to-do list if you happen to be planning a winter trip to Phoenix.
Location: Boston St Chandler, AZ 85225
The World's Largest Pistachio
Take your pic next to a 30 foot pistachio
A quirky roadstop along Hwy 54 in southern New Mexico, Pistachioland, helps to break up the boredom of long hours driving along the barren desert roads. At Pistachioland, you can take your picture next to the world's largest pistachio, tour a pistachio farm by tram, sample all sorts of unique pistachio flavors, treat yourself to a cool pistachio flavored ice cream treat, sample fudge and wine, and pick up all sorts of unique gourmet food items and souvenirs. One of my favorite roadside stops!
Location: 7320 Hwy 54 70, Alamogordo, NM 88310
White Sands National Monument
Snow in the Desert
Where else can you go sledding in the desert? Popping seemingly out of the middle of nowhere in the Chihuahuan Desert of New Mexico are the mesmerizing rare white gypsum sand dunes that make up White Sands National Monument. The coolest part of all is that you can walk bare feet on the sand even on the 100 degree summer days as gypsum sand does not absorb heat.
This place is the strangest I've visited – you really feel as if you are walking on a smooth sandy beach here, similar to one of the Gulf Coast gems in Florida. You will also notice during your visit that sledding down the dunes is a very popular activity. White Sands is a really unique place like no other in the country and totally worth stopping for if you find yourself vacationing or traveling through the southern portion of New Mexico.
Location: 19955 Hwy 70 Alamogordo, NM 88330
Devil's Kitchen
Legend says the devil himself created this unique crack in the granite
While the Upstate SC park is more well known for its' beautiful hiking trails and waterfalls, there is one odd attractions sure to please anyone seeking out the unusual. At Caesars Head State Park you will have the opportunity to squeeze through a narrow passageway located in between 2 giant rocks.
Appropriately nicknamed Devil's Kitchen, the story involves the devil himself. Local legend says that the devil accidentally created the passageway by spilling a hot liquid over the rock.
While you are here be sure to hike to Raven Cliff Falls, which at 350 feet, is one of the tallest waterfalls in the Southeast.
Location: 8155 Geer Hwy, Cleveland, SC 29635
Lowell Ghost Town
Tale a step back to the 50's on abandoned Erie Street
Not much is left of historic Lowell Arizona, an old mining town near the now thriving tourist community of Bisbee. Take a walk down deserted Erie Street and see abandoned businesses, including an old gas station, greyhound station, and a theater. The ambiance is super creepy, and not surprisingly, the setting was used for the Stephen King horror flick Desperation.
Note: I will continue adding new strange, wonderful, odd, and off-the-beathen path attractions to this list as I make my way across the country. Check back often for updates!
What unique attraction should I visit next? What are some of the strangest places you have visited?