Vacation Spotlight: Los Angeles, CA
Los Angeles, aka the Entertainment Capital of the World, sees millions of tourists from around the world each year to check out the multitude of entertaining activities that the city offers. Sure there are plenty of TV show tapings, theaters, and iconic media attractions to enjoy, however, the city offers much more outside of the Hollywood scene.
A vacation to Los Angeles would not be complete without taking time for some outdoor recreation in the beautiful California sunshine! Take a look at some of my favorite recreational, shopping, cultural and entertainment related activities to keep in mind for your next trip to L.A. Be sure to tell me some of your favorite spots in the city!
L.A. area recreational Hot Spots!
Before moving to Los Angeles, I never knew a bike path could be so much fun. In fact, I took up cycling as one of my main hobbies after my first few weeks in town. The Marvin Braude (South Bay) bike path is an absolutely gorgeous 22 mile path which runs along all of L.A.'s beautiful beaches. This isn't your ordinary run of the mill path- there is so much to see and do along the way!
Mike starting the path in Torrance – check out that view! Now that's motivation!
This paved path allows you to enjoy the fabulous scenery of the area without any distractions or traffic! Almost the entire path runs along the water, so as you can imagine the views are to die for. This ride is pretty flat & smooth, which makes it accessible to cyclists of varying fitness levels.
One of my favorite stops along the way is the Santa Monica Pier (yes, the roller coaster ride is a must – who cares if it is a bit overpriced!) I wasn't too impressed with Venice Beach, however, everyone should experience the craziness at least once. In addition, you will find more than enough places to stop for lunch or a quick shopping excursion.
A view of Santa Monica Beach from the roller coaster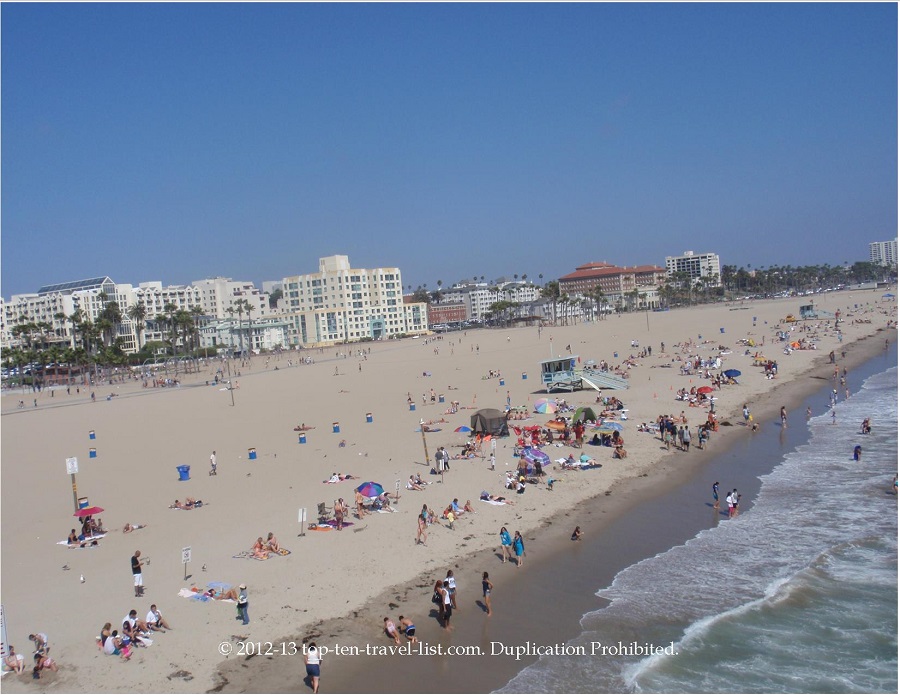 Manhattan Beach is among the most gorgeous of all Southern California beaches (and a great place to stop for a break). The beach is beautifully clean and the photo opportunities by the pier can't be beat. Plus, I love looking at all the beautiful multi-million dollar houses lining the coast.
Another gorgeous, yet underrated, beach along the route is Will Rogers State Beach (I believe Baywatch was filmed here). This hidden gem marks the end of the 22 mile ride, a nice relaxing break before heading back to complete the return 22 miles.
Overall, you are bound for a sunny adventure filled day, with unique oddball attractions, incredible ocean views, and endless people watching opportunities along L.A.'s stunning bike path.
The Long Beach Bike Path – A shorter, less congested alternative
Don't have time for a lengthy bike ride? Why not check out the Long Beach bike path (Long Beach is located in LA County about 20 miles or so from downtown L.A.), a 6 mile round trip ride with decent views in and of itself. Because the ride is so much shorter and easier on your body, you should be able to squeeze it into your busy schedule. As an added bonus, this path is pretty isolated on weekday mornings, so get out there as early as possible!
A view of Long Beach from the bike path on a peaceful deserted morning
Hiking Hotspots – Where to get in a great workout with an even better view!
Don't worry if biking isn't your preferred means of transportation. There are plenty of scenic hiking trails to enjoy. Griffith Park and Runyon Canyon are my 2 favorite places in L.A. to hike. Who knew you could get such a rustic experience within the city limits? (that is, if you avoid weekend visits).
Griffith Observatory hiking – Best views of the iconic Hollywood sign
Runyon Canyon – A very steep uphill climb which rewards with the best city views!
Both these hiking hotspots provide fabulous views of both the city and mountains (and even all the way to the ocean on a clear day!). Unfortunately, the thick layer of smog usually disrupts the view. Nevertheless, the hikes are your best option for a peaceful escape within the city.