Sipping Tea While Gazing at The Vegas Strip: Waldorf Astoria Tea Lounge
An amazing tea lounge is located on the 23rd floor of The Strip's 5 star classy, zen-like Waldorf Astoria Hotel. This is easily the most scenic place for a drink on The Strip thanks to the floor-to-ceiling windows. Only in Vegas will you be able to sit and relax with your favorite cup of tea while still enjoying the glitz and glamour. Watching the bright lights and action below from such a zen-like setting is truly a unique experience.
This hidden gem known as The Tea Lounge offers tired tourists the opportunity to take a break from all the crowds and action, all the while still feeling a part of it. While you enjoy your flavorful pot of traditional tea (try out the Organic Lychee Green – it's delicious), you will be treated to one of the most magnificent views of The Strip that you will likely encounter at any dining/drinking establishment in the city.
If you want to treat yourself even further, why not make a reservation for Afternoon Tea? Traditional Afternoon Tea service includes fresh brewed loose leaf tea, assorted pastries, and light snacks. Champagne can also be added to enhance the experience. Various black, green, white, and oolong blends give you a variety of flavors to choose amongst. Not a tea drinker? Cocktails, juices, coffee, and even hot chocolate can be enjoyed as well.  In addition, light snacks such as macaroons, scones, and fruit platters are available. For those not up for the full Afternoon Tea experience, simply order a treat or 2.
Looking for a caffeine-free drink? There is an interesting selection of wellness boosting teas on the menu. These herbal blends contain a mixture of different herbs meant to help you restore and relax. Sipping a hot and soothing cup of tea is the best recovery after a long night out on The Strip. Dealing with traffic, crowds, long waiting lines, and pollution, not to mention walking miles and miles, takes a toll on your body. A refreshing pot of immune boosting tea might be just what you need.
Whether relaxing, catching up with friends, or just taking in the breathtaking views, an afternoon at the Waldorf Astoria Tea Lounge will give you an opportunity to restore yourself and catch your breath before plunging into the crowds and excitement again.
The setting is tranquil and attractive with comfy couches and a fantastic Oriental design theme. And of course, you cannot leave until you stand up to the floor-to-ceiling windows and gaze down. Be sure to bring your camera – you will want to take your picture next to this spectacular viewpoint!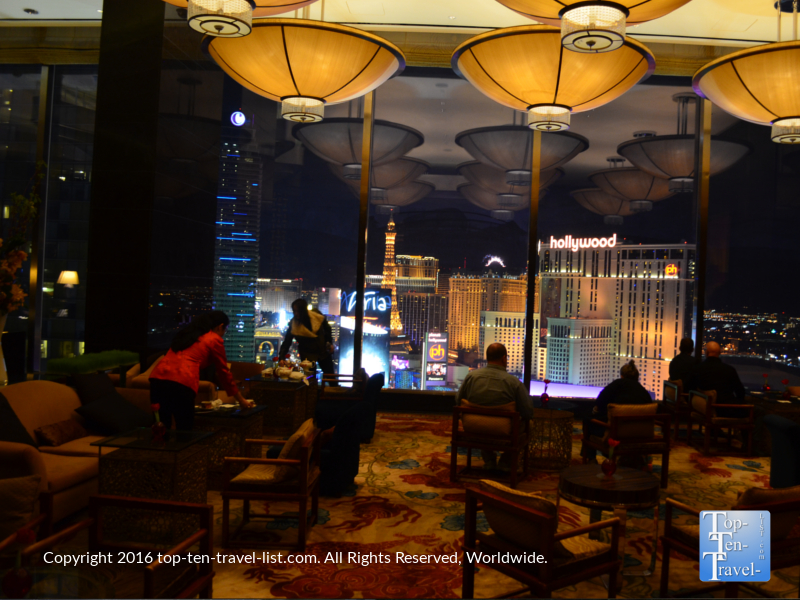 Service is outstanding as well, very professional and friendly. The tea is presented beautifully and your first cup is poured out for you. A few light snacks (trail mix and nuts) accompany your pot. The waiters seemed to know a lot about tea and were more than willing to make a suggestion for us. Don't hesitate to ask about anything, especially if you are a tea newbie.
A tea experience like no other, anyone seeking a relaxing Vegas activity should take the time out to recover at this gorgeous tea room. On the quiet, cozy, and classy 23rd floor of the Waldorf, you will feel like you are leaving all the craziness of The Strip behind, yet still enjoying the beautiful architecture and bright lights.
Visiting The Tea Lounge at Waldorf is a perfect afternoon date idea. The hotel itself is very zen-like and peaceful. Even the trip up to the 23rd floor is a relaxing experience as you do not have to walk through a noisy casino. Whether you are looking for a unique date spot, a tranquil place to avoid the crowds, or a fun non-gambling related activity, you are sure to find what you are looking for at this fantastic tea lounge.
The Tea Lounge is open Wednesday-Sunday. Specialty sweet treats are available from 10am-4pm. To see the full menu, pricing, and seating times, as well as info on making reservations, visit the Waldorf Astoria website.