Potter's St. Augustine: The First Wax Museum in the US
Not only is St. Augustine the oldest continuously inhabited city in the county, it also happens to be home to some of the oldest attractions. If you have ever taken a vacation to a touristy area like Vegas, Orlando, or LA, you have probably come across a wax museum at some point. The first wax museum in the country, Potter's, actually opened in St. Augustine back in 1948. Since then, wax museums have become popular worldwide in many tourist destinations.
It's always fun to see realistic representations of our favorite historical, entertainment, and political figures. While Potters is quite small compared to newer wax museums, the historical value and cheap admission price a visit worthwhile. Interestingly, the museum is located inside the oldest pharmacy in the US. Anyone interested in art, history, and/or mass media should definitely plan for a visit.
History of Potters
The museum's founder George Potter decided to open the museum after admiring the creations at London's Madame Tussauds. This is the oldest and most famous wax museum in the world, having been in operation since 1835. 2011 marked the 250th anniversary of this historic museum.
Each figurine at Potter's features fascinating on point detail by incredible skilled artisans. The wax was sourced from France, and real hair was sourced from Italy. Each wax figure features fine detail for a true likeness to the original person/character.
Potter's Wax Collection
Today, the collection includes over 150 wax figures. At one time the collection included over 300 artistic creations. After the death of George, the collection dwindled due to sales. Nevertheless, there are still some great lifelike wax figurines to appreciate.
You will see notable politicians, celebrities, athletes, and founding fathers during your visit. Most of these are over 60 years old. The presentation is a bit cramped as the space is so small. However, the historical significance and old school vibe make for a fun experience. If you are looking for something cheap and interesting for the whole family, this is a great choice in St. Augustine's historic district.
Take a look below at a few of the amazing wax creations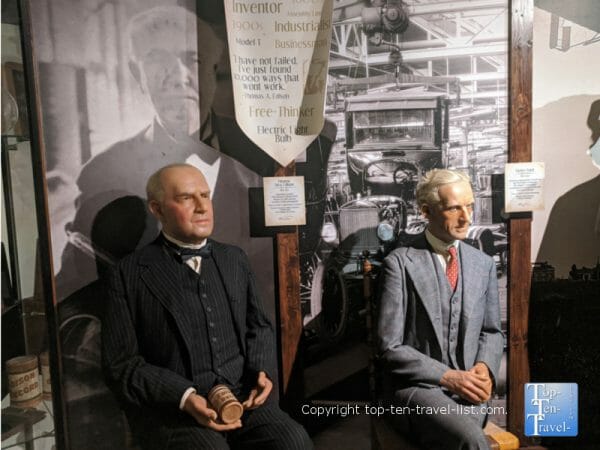 How long do wax figures take to make
According to Wonderopolis, experts say that each wax figure takes an average of 350 hours! Imagine the patience required to work on a single detailed project for so long! It sure pays off though! The ending result is an incredibly realistic wax creation that is so good that it is often mistaken for a real person! The estimated cost is $150,000-300,000 per wax figure.
This interesting Wonderopolis article details the process involving in constructing a wax figure.
Admission, Hours, & Location details
Potter's Wax Museum is located at 31 Orange St, St. Augustine, FL 32084. Free side street parking and paid lots available in the vicinity.
Hours are 9am-5pm, 7 days a week.
Admission is $12.77 for adults, $7.44 for children 4-12. Save 10% by booking online or pick up a coupon booklet (at various locations around town) to save a buck per person.
Night entrance to the museum
Horror buffs will be happy to know that a small section of the museum is devoted to horror villians. Also, the Ghosts and Gravestones trolley tour features an after dark visit to Potter's. St. Augustine is one of the country's most haunted cities. A guided trolley tour is a great way to explore haunted sites while learning more about the town's spooky legends.