Hiking Hotspot: Red Mountain in Flagstaff, Arizona
The Red Mountain trail is an easy, quiet, scenic 1.5 mile out and back hike, located just 25 miles north of Flagstaff. It's a great short stop on the way to or from the Grand Canyon, or as just one of many outdoor adventures to explore during your time in Flagstaff, Sedona, and surrounding areas. A quick and scenic drive along Hwy 180 will take you to one of the area's best hikes. Often passed up in favor of popular options like Walnut Canyon, Sunset Crater, and Snowbowl area trails, Red Mountain is an under-appreciated option that is more than worthy of a visit.
A simple 1.5 walk, which includes a very gradual upgrade, will take you to the inside of an ancient volcano, which is estimated to have erupted about 470,000 years ago!
The journey is quite scenic as the cinder cone rises up 1000 feet higher than the surrounding landscapes, thus there is a great view for the entire length of the trail. Plant life along the way consists of junipers and pines, although there is not much shade, so this would be an uncomfortable hike in the dead of summer. On the bright side, the trail does not see as many people as more popular options nearby, and tends to be very quiet, even on weekends. It's a nice refreshing walk into nature with stunning views, and a much appreciated quiet setting.
Once you reach the volcano, you will climb up a short staircase to enter the natural amphitheater. As you stroll around, you will be in awe of the towering red rock formations surrounding you; it's quite a spectacular experience. You will also notice lots of hoodoos, which are basically strange looking pillars which protrude out from the rocks.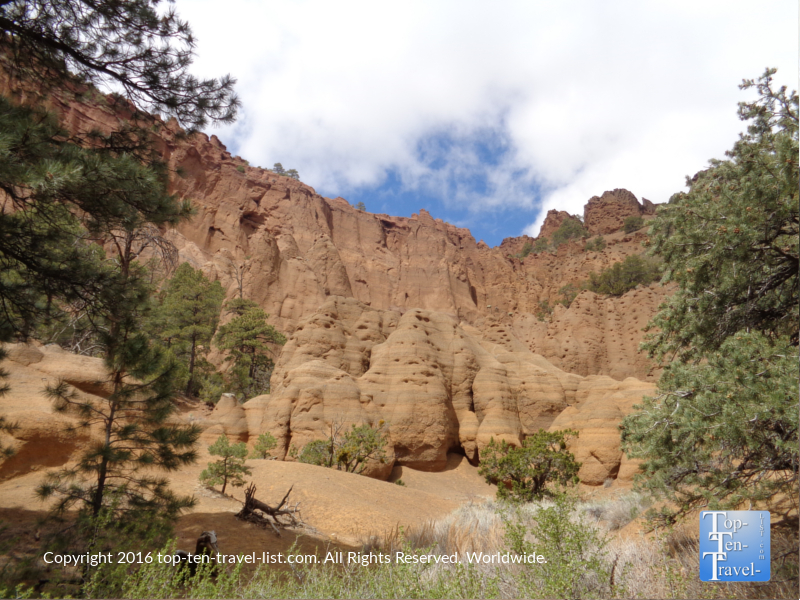 Red Mountain is considered a very unusual cinder cone due to the U shaped curve and asymmetrical shape.
Overall, Red Mountain is a great hike for just about anyone as there really are no major hills or rough terrain. It's well marked and easy to follow with really only one way to go so you will not get lost as is the case in many area hikes which are confusing due to poor signage and multiple forks in the road.  At just a little over 3 miles round-trip, even beginning hikers should be fine at Red Mountain. Just be sure to get used to the high elevation around town for a few days, take your time, eat before you hike, and drink plenty of water! Plan for about 1-1.5 hours total depending on how many pics and breaks you take.
Directions
Head out of Flagstaff on Hwy 180. When you arrive at milepost 247, turn left to enter the trailhead area. You will drive about a quarter of a mile on a dirt road before reaching the lot. There is no fee to park. Be aware that there is no drinking water or restrooms here.