Fun Southern California Beaches: The Best Beaches of LA & Orange County
Another winter storm here in the Boston area has me dreaming of the beaches I was once able to visit on a daily basis in Southern California! Southern California is known for having some of the most beautiful beaches in the world. I love the fact that the beaches are so versatile – relaxation, exercise, photography, people-watching…just about anything.
One of my favorite exercise activities was riding along "The Strand" – a 22 mile long bike path that goes through several different beach towns including Manhattan, Hermosa, Redondo, Santa Monica, Venice, and Will Rogers. There is so much to do and see along the way that the trip becomes not only exercise, but also a fun way to spend a weekend afternoon.
Top 7 Southern California Beaches
Manhattan Beach – Los Angeles
*I love this beach! Manhattan Beach is one of the cleanest beaches in the L.A. area. Beautiful pier with gorgeous views as well! Another advantage is the quiet atmosphere. Every time I have visited, it has always been quiet and much less crowded than the other beaches. This is a great relaxation beach whether you want to read a book, watch the waves, or just relax in the sun.
There aren't as many noisy volleyball games going on and not as many kids around. Great option for those looking to relax. You can hop on the bike path right from the parking lot. There is also a separate path for jogging/walking (such a great idea to separate the 2 paths!) Another bonus is being walkable distance from plenty of shops and restaurants!
Huntington Beach – Huntington Beach
*Huntington Beach is a fun beach for those looking for a more upbeat time. There are always events going on (surfing, concerts, etc), plenty of bonfires, lots of people around all the time, and tons of shopping and restaurants in the area. The pier is a great spot for watching the surfers!
I caught a portion of the U.S. Open of Surfing here. There is also a very nice bike path which spans about 8.5 miles. While not as long as "The Strand" and a bit more crowded, it is still well worth a visit.
Laguna Beach – Laguna Beach
*Gorgeous smaller beach in Orange County. Coming here early in the morning for a jog and taking in the beautiful scenery (cliffs, palm trees) while listening to the sound of the waves is like nothing else. Laguna is also a good beach for beach combing.
The nice thing about Laguna is that it is not as hectic as Huntington Beach, thus making it a better option for days that you just want to chill out. There are restaurants, art galleries, and shopping within walking distance of the beach.
Crystal Cove State Beach – Newport Beach
*We found out about this beach while hiking the El Morro trails at Crystal Cove State Park. crystal Cove State Beach is a hidden treasure in the area. Gorgeous views here and super waves! Swimming with the mega waves was a cool experiences. On a side note, the hike is such a fantastic experience – the most amazing views of the Southern California desert and Pacific Ocean.
Venice Beach – Venice
*This is one of the beaches you just have to visit when you are a tourist in CAlifornia. Not a beach I would visit all the time but it makes an interesting experience. Venice is known for Muscle Beach, various street performers and vendors, and the graffiti walls. We saw some really crazy acts like a guy walking over glass! One of the city beaches you pass through on the bike path. You can walk around the boardwalk for a bit or just pass by and catch a glimpse while on the bike path.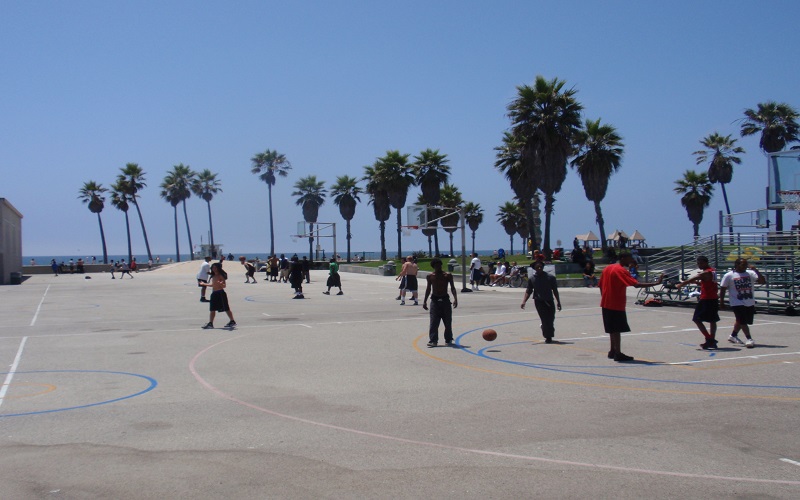 Santa Monica Beach – Santa Monica Beach
*Santa Monica is best known for the Santa Monica Pier, which is complete with amusement park rides, carnival games, and a few restaurants. The roller coaster was a blast and the views were incredible! The pier is a great spot for taking pictures of the beach. Santa Monica is a great stop during the bike path (very easy access as the path goes right past the pier!). Definitely a more crowded, lively beach for the days you are looking more for an upbeat time!
Will Rogers State Beach – Pacific Palisades
*Will Rogers is most famous for being the location of various TV sitcoms, including "Baywatch." Will Rogers marks the end of "The Strand" bicycle path and lets just say this is the perfect ending. A beautiful beach with almost no crowds, spectacular scenery, and beautiful of the Santa Monica mountains.