Attraction of the Week: Tonto Natural Bridge State Park
Gowan Trail
The Gowan Trail is another means to get to the bridge and waterfall viewing point. While this trail is steeper than the Pine Trail, it is also much shorter and involves no climbing over big rocks. It's the way to go for anyone uncomfortable trekking across tall boulders. The short climb downhill leads you to the same observation area as the Pine Trail. While not as peaceful, quiet, or scenic as the journey along the Pine Creek Trail, the ending view is the same stunning view of the world's largest natural travertine bridge. You will get a nice short cardio workout going up and down the hilly trail. If you are limited on time, then the Gowan Trail is the perfect way to see the waterfall and natural bridge within an hour max time frame.
This trail is named in honor of David Gowan, who came across the bridge back in 1877 while being chased by the Apaches. In 1898, he convinced his family to settle the land.
A few great views along the Gowan trail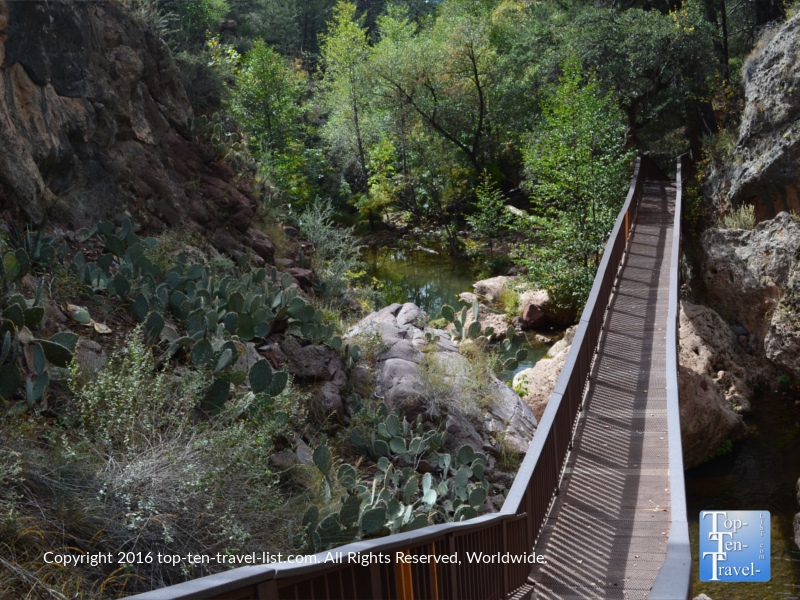 Waterfall trail
The Waterfall trail is the shortest trail within the park. It does not lead you to the bridge, but rather to a beautiful little waterfall cave. It is a really short trail (just 300 feet or so) that will only take about 10 minutes, and thus, can easily be incorporated into your trip. Steps leading down to the waterfall are a bit steep, however, nothing too challenging. Beautiful views of the forest and even a hint of fall foliage in October/November make this a quick relaxing hike not to miss out on.
A few beautiful pics from the Waterfall trail
Anna Mae trail
This 500 foot long trail leads you to the Pine Creek Trail. I recommend skipping out on this one and hiking the Pine Creek/Gowan Trail instead. This trail is just unnecessary work. Hiking Pine Creek & Gowan will take you through the best scenery the park has to offer.
Overall, Tonto Natural Bridge State Park is one of the most amazing natural wonders in Arizona. There are many unique geologic wonders to explore throughout the entire state of Arizona – Tonto Natural Bridge is just one more to add to your bucket list. With easy access from many popular tourist destinations throughout the state, it would be silly to skip out on this magnificent sight if you happen to be passing through or staying in a nearby area.
Tips for a smooth visit
*Bring plenty of water. Remember that you are in a dry desert climate, so you need to drink extra. I recommend at least 1L per person or preferably, a camelbak to ensure you have enough for the whole journey.
*Plan at least a few hours if completing the entire Pine Creek Trail. Although it is short, it takes a while to climb across the rocks. Plus, you will want some time to relax and enjoy the scenery!
*Follow the trail signs. The trails are well marked, even in the undeveloped sections. For safety concerns, stick to the trail.
*Leave the hiking stick at home for this trail. Climbing over the big boulders requires 2 hands in most cases. In this circumstance, a stick will just get in the way. And because you need both hands, a nice hiking backpack will work much better than attempting to hold a water bottle the whole time.
*Fall is the best time to plan your visit due to a number of attractive features including fewer crowds, cooler temperatures, and even an opportunity to see a bit of fall foliage.
*To see the best views in the park, hike the Pine Creek trail and connect to the Gowan Trail.
*Bring your camera (and preferably store in a camera backpack for convenience) to capture this stunning natural wonder. If bringing a DSLR, you will want to put it in a camera backpack as opposed to carrying it the entire time, as this will be inconvenient & almost impossible on the Pine Creek Trail.
*Wear hiking shoes! You really need good traction for the trails here, especially the slippery rock crossings on the Pine Creek trail. I saw a lot of visitors wearing boots and other dress shoes – don't do it! I also saw many visitors wearing jeans – you will be getting wet and dirty, so be sure to wear fitness apparel. You can also move much easier with the stretch fabric of workout apparel.
*Be aware of the many natural hazards involved with hiking at this park including possibly falling from a slippery boulder, a rock hitting you from a cliff overhead, and dehydration from lack of hydration in this desert climate. All of these can be avoided by proper preparation, following trail signs, and taking your time and not fooling around on treacherous parts of the Pine Creek trail.
*Leave pets at home as they are not allowed on the trails.
Address & Admission
Tonto Natural Bridge State Park is located on Hwy 87 in Pine, Arizona. You will see signs pointing to the park. Or put the following GPS coordinates in: Latitude: N 34 20.090, Longitude: W 111 25.264
Hours are 7 days a week, 9am-5pm. Trail close at 4pm. Entrance fees are $7 per adult and $4 for kids ages 7-13.