Attraction of the Week: Petroglyph National Monument in Albuquerque
Petroglyph National Monument is quite an interesting addition to any Albuquerque vacation. While most tourists will be busy trying out authentic New Mexican cuisine in historic Old Town, taking a scenic ride on the Sandia Peak tramway, and/or enjoying a narrated Breaking Bad tour, planning for a short stop at Petroglyph National Monument is definitely worthy of an hour or 2 of your time. Here you can explore 400+ year old petroglyphs, enjoy some peace & quiet in the desert, and also get in a little workout by completing a few of the park's short hiking trails.
With over 20,000 ancient carvings, Petroglyph National Monument is one of the largest preserved sites of these ancient drawings. It is estimated that Native American and Spanish settlers carved these between 400-700 years ago. Several hiking trails within the park will give you an up close look at many of these unique symbols. The park estimates that you can see 100 in just an hour!
Below are a few of the interesting petroglyphs you will see on the Boca Negra Canyon trail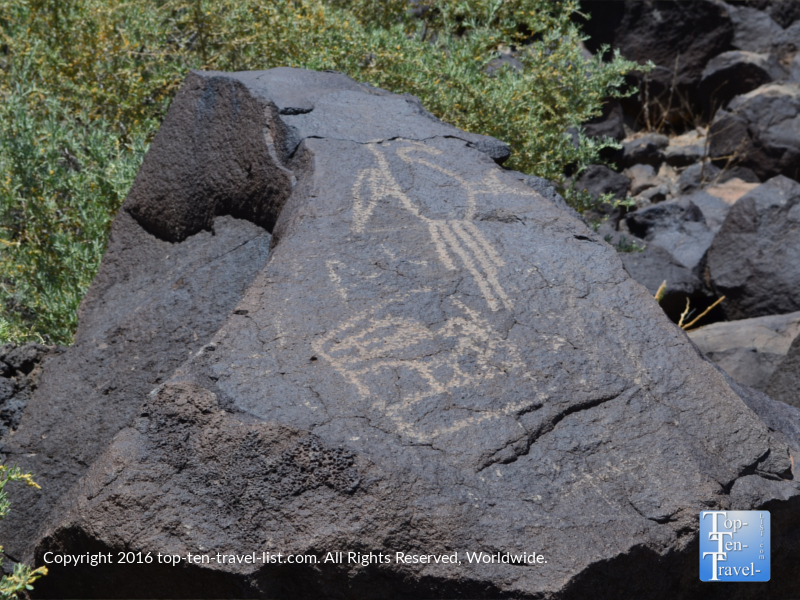 For summer visits, I recommend completing the nature trails of Boca Negra Canyon. 3 different trails are available for a total hiking time of about an hour. As these trails are a bit shorter than others within the park, you can sneak in a quick hike during the summer months without overheating. Be aware it can easily get into the high 90's during the summer season and there is absolutely no shade on any of the trails! Start early in the morning and drink plenty of water. If you are up for it, climb the Mesa Point trail (very short, but a bit steep) for amazing views of the Sandia mountains!
Longer hiking options for the cooler months include the 2.2 mile long Rinconada Trail and the 1.5 mile long Piedras Marcadas Canyon Trail. These trails are a bit harder, although you will see many more petroglyphs. If you happen to be visiting outside of the brutal summer season, I really recommend completing one of these longer options.
Besides the ancient pictographs, views along the way mostly consist of various desert plants. Rattlesnakes are commonly seen so take precaution! You will see many signs along the way alerting you of their presence.
Parking is $1 on weekdays, and $2 on weekends. Dogs are not allowed on the Boca Negra Canyon trails, however, they are allowed on the Rinconada and Piedras trails. You will need to drive several miles to the trailhead from the visitor's center. I recommend stopping in an getting a map as well as directions from the ranger on how to get to your intended trail. In addition, you can read a little more history about the park.
Address
Enter the following coordinates into your GPS: Latitude: 35.139 Longitude: -106.711. Or take 1-40 to  Unser Blvd. exit (#154) and continue 3 miles until you arrive at Western Trail. Turn left on Western Trail and proceed until you reach the visitor's center.