A Must-See in Downtown Tampa: The Beautiful Florida Aquarium
The Florida Aquarium in downtown Tampa is an expansive facility home to more than 20,000 beautiful sea creatures. A visit to Tampa would not be complete without a visit to this top notch aquarium, frequently rated amongst the best in the country. At The Florida Aquarium, you will find an assortment of both common and unique sea life including: tiger sharks, massive sea turtles, stingray, jellyfish, seahorses, leafy dragons, lionfish, upside down jellyfish, and more.
The Wetlands
The Wetlands Trail is a beautiful trail where you will find: alligators, pythons, otters, and all different types of birds. As you stroll along, you will pass beautiful cypress swamps and mangrove forests. A great place to take a leisurely stroll (that is if you visit on a slower weekday!). Take a look!
Journey to Madagascar
Journey to Madagascar allows you to get an up close view of lemurs, geckos, and chameleons. Here you will also find a gorgeous Indian Coral Reef.
One of the more unique exhibits features a 300 pound Grouper Goliath. The fish can easily be mistaken for a statue as it rarely moves. Update: Sadly, the Goliath passed away in 2020 at the age of 30!
I was able to capture this unique picture of a Green Moray with its' mouth open. Green Morays are part of the eel family. Even though the eel appears green, it is actually brown. The combination of the yellow tinted mucus covering its' body and the background color gives it the trademark green color.
The Coral Reef Tank
The highlight of the aquarium is a 500,000 gallon Coral Reef tank filled with over 100 species, including sand tiger sharks and green sea turtles. There is a seating area to sit back and relax as you watch all the beautiful fish swim before your eyes. Take a look!
A diver cleaning out the tank! This would be pretty cool and scary at the same time!
A brief tour through some of the more colorful tanks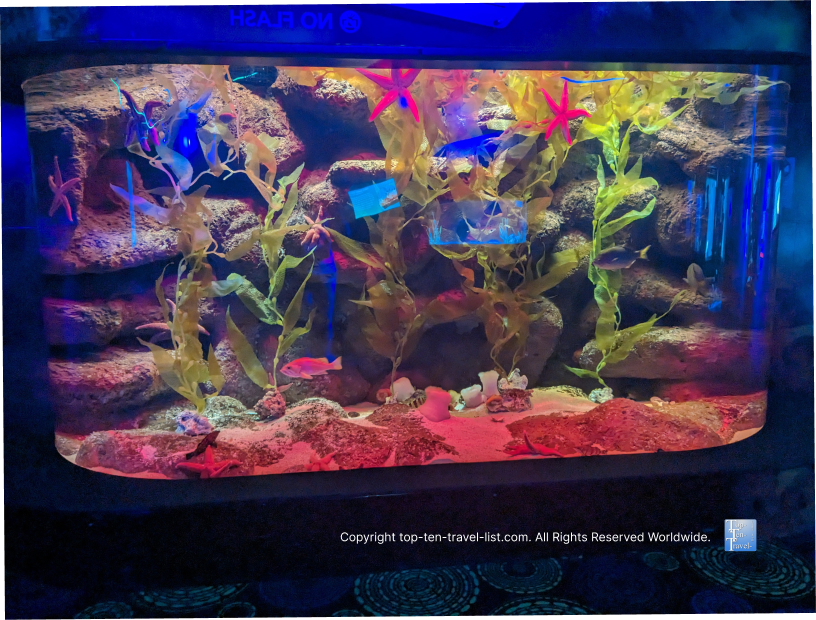 This is also where most of the daily shows take place. During our visit, we had the pleasure of seeing the Penguin Promenade. A neat experience to see the penguins up close – check it out if you visit falls during a show. Also be sure to check the daily schedule of feedings and other encounters (a map will be given to you upon check in).
All the tanks are very colorful and attractive. I loved the Seahorse and Leafy Dragons tanks. They are absolutely beautiful creatures. Seahorses are found in shallow tropical waters, while leafy dragons are found in Australia. Both beautiful creatures get their name from their dragon like resemblance.
Bright Jellyfish tanks
Upside down jellyfish
A Clown Fish (as seen in the movie "Finding Nemo")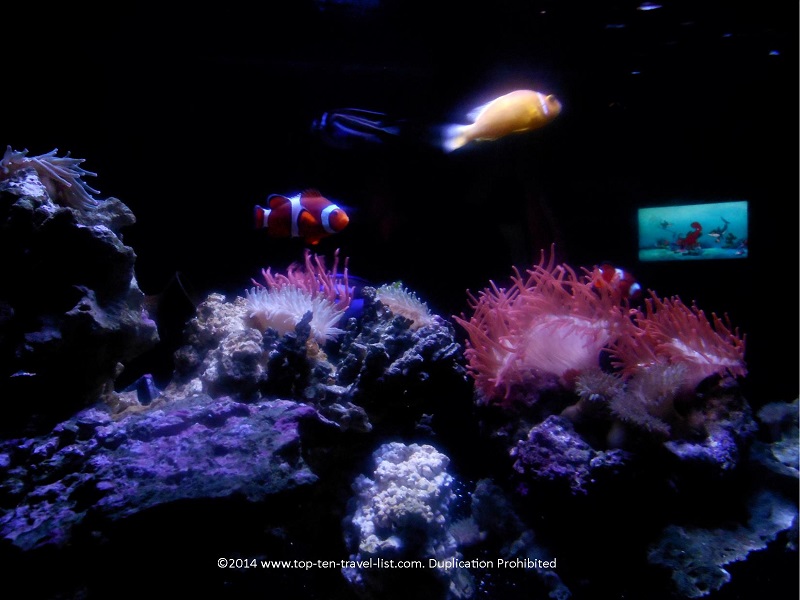 Stingrays
A unique tank filled with translucent fish
Check out this strange looking fish!
A fascinating fish that buries itself in the sand!
4D show – Entrance to the 4D show is included with your admission. The show is about 15-20 minutes long. During our visit, they were airing an Ice Age themed show (subject to change), which was cheesy, but fun for the kids with the unique special effects.
Special Experiences
In addition to the exhibits mentioned above, you can also check out the numerous hand on experiences available featuring: stingray, starfish, and horseshoe crabs. Here's your chance to touch these beautiful creatures with your own hands!
For an extra fee, you can purchase special additions. Here's a listing of the various options available.
Backstage Penguin Encounter – A 30 minute experience where you will get to pet penguins and observe them in a close setting.
Dolphin Cruise – A 75 minute cruise with plenty of opportunities for sightings.
Stingray Feeding – A tour providing additional information on stingrays with the opportunity to hand feed one yourself.
Swimming with the Fishes – Swim with the fishes in the Coral Reef Gallery.
Diving with the Sharks – Certified scuba divers can swim with the sharks in the Coral Reef Gallery.
Behind the Scenes Tour – See what happens after hours in the aquarium, including food preparation and feedings. You will also get to observe areas traditionally closed to the public.
Is it worth the hefty admission fee?
Personally, I feel like admission is overpriced, particularly if you do not have kids. Much of the aquarium is catered towards kids. The extra family activities (splash pad, 4d show) will likely please families. A visit to the Florida Aquarium is also recommended for those very interested in sea life. Keep in mind that pretty much everyone in this vacation area overcharges, so you will be paying a hefty tag at most other attractions as well.
Although it is not the best aquarium I have visited, it is definitely worthy of a visit if vacationing in the Tampa and surrounding areas. It's a great place to take an hour out of your day to leisurely stroll around observing the beautiful natural plants and animals of the sea. A nice place to visit during the summer months when it is too hot and humid to stay outside very long!
Tips for a great visit
If you live in the region, definitely purchase a membership. In all honesty, the aquarium is quite overpriced for a one time visit. A membership will pay for itself in just a few visits.
Visit on a weekday for fewer crowds and a more relaxing experience. There are several rocking chairs and seats set up to relax and enjoy the tanks, however, on the insanely crowded weekends in can be hard to walk around, let alone relax.
Check Groupon, Living Social, and Amazon Local for deals. You can save as much as 50% by using these sites. Or pick up a brochure with a coupon for $3 off each admission (available in the Tampa Visitors Center).
Plan your visit around special shows and encounters. Seeing one of these lively, informative shows will make your visit a much more memorable experience. Plus, it will justify the steep admission price.
Purchase tickets online to save a few bucks.
Consider purchasing a CityPass as you will save money on the Florida Aquarium plus 4 other top rated Bay attractions.
Visit on the first full Sunday of the month if you use Bank of America. Card members get in free the first Sunday of the month as part of the bank's Museums on Us Program. Great deal! Just show your card!
Location, Hours & Pricing Information
The Florida Aquarium is located at 701 Channelside Dr, Tampa, FL 33602. Ticket prices vary based on day of week, weather, and holidays and prices vary from $30-40. Check the Aquarium website for special combo tickets.
The Aquarium is open 7 days a week from 9:30am-5:00pm
Parking is $11 per vehicle. I recommend finding metered parking and walking. Rates are much cheaper unless you are planning to stay at the aquarium for several hours.
Also be sure to check out my full guide to the best of the Bay!