5 Coffee Houses to Check out in Tucson
For most people like myself, a nice steaming hot cup of coffee in the morning is the best way to start the day off right. However, in Southern Arizona, where temps climb past 100 on a daily basis for months on end, a hot cup of coffee may not seem as enticing. Hence, cold brew and iced coffee are really popular here. Nevertheless, I prefer my coffee hot no matter the weather, and a delicious Americano is my preferred treat after a long work week. On weekends, I love to treat myself to a coffee out, simply to enjoy an expertly brewed drink in a nice setting away from the house.
For most of the year in Tucson, avid outdoor enthusiasts need to get up pretty early before the intense afternoon heat and sunshine make any type of outdoor activity completely unbearable. A strong cup of coffee prior to hitting the trails is the perfect wake me up. Unfortunately, in Tucson, the coffee can be a hit or miss. Nevertheless, there are a number of local shops throughout town that I choose to return to due to their delicious coffee offerings, combined with good service and a nice setting. Here are my 5 favorite coffee shops in the Tucson region.
Presta Coffee Roasters
Presta Coffee would be my top choice for new Tucson visitors. Presta is a small local micro roaster that is anything but the common chain. The house coffee is always smooth and delicious and the Americanos are by far the most tasty in town. Their pour over and cold brew are also top notch. The beans are roasted light to medium and the resulting taste is fresh with no bitter or burnt aftertaste.  Note: as of late, I believe they switched the beans and their coffee continues to get sweeter and sweeter. If you do not like overly sweet coffee, opt for the Americano instead.
And, I love their pretty blue mugs and the fact that they automatically serve your coffee properly in a mug instead of giving you a paper cup. Non coffee drinkers can relax with a cup of delicious loose leaf tea – try the Prickly Pear! The decor inside is pretty minimalist, yet attractive & clean, however, I recommend taking a seat in the courtyard area and enjoying one of the few places with trees in Tucson!
Presta is the best coffee shop in Tucson for several reasons. First of all, it is located in the touristy Mercado San Agustin, a dining & shopping village with a beautiful outdoor courtyard. Second, the baristas here are always super friendly, a noticeable difference from other coffeehouses around town. Third, the shared used courtyard is home to a few great breakfast restaurants and ongoing events such as art and farmer's markets.
In addition to enjoying one of the best cups of Joe in the area, you can also feast on the best breakfast tacos in the area (at Seis Kitchen). The outdoor courtyard is shady with lots of trees, offering an ambiance not found anywhere else in Tucson. This place gets pretty busy on the weekends (particularly with cyclists and hikers), however, there is tons of seating so you can usually always find a spot.
What to do nearby: If you are a fitness enthusiast, the hike up Tumanoc Hill is just minutes away. This is one of the few places where you can get your morning coffee and not have to drive an additional half hour or more to hit the trail! In a city with endless stop lights, this is a real bonus!
Location: 100 South Avenida del Convento Tucson, AZ 85745
Hours: 7am-10pm (8pm on Sunday & Monday)
Exo Roast
Exo Roast is another great independent gourmet coffeehouse in Tucson. Each batch of beans at Exo is craft roasted in-house in small batches in a gas-fired German Probat roaster. The resulting quality of coffee is definitely the best of the best Tucson has to offer. The coffee is always rich and delicious without any sort of burnt after taste. I love the Americano here, which has a smooth, sweet like taste without any bitter aftertaste. You can really taste the flavor in the beans as opposed to the common chain's overly burnt undertone that overpowers the true taste of the beans. In terms of quality coffee in Tucson, Exo Roast is number 1.
If you are a coffee connoisseur, you will definitely want to try the pour over here. There are 3 different pour over options using 3 different single origin beans at 3 different price points offered daily. Coffee is always fresh as any ground coffee not brewed within 2 minutes is thrown into the trash. Exo's coffee is is a light roast, so if you love your coffee with a hint of sweetness, this is the place for you.
The mocha using homemade chocolate is so delicious and tastes like the most delicious hot chocolate you have ever tasted, although I still prefer the rich taste of regular black coffee, and hence, the Americano is my go to drink here. Non coffee drinkers might want to try out a pot of tea from Seven Cups, a delicious local Tucson tea house which is rated amongst the best in the county. The Eight Treasures, featuring 8 healing Chinese herbs, tea is the perfect relaxing treat.
Exo is located in an attractive old warehouse space on 6th Avenue in the downtown region, complete with exposed brick walls and the original wood plank floors. The building, called the Market Inn, was once used as a toy factory in the 19th century. The space is quiet and charming. Whether working, meeting up with friends, or a casual business meeting, Exo Roast is a great choice for anyone looking for more of a hipster like downtown NYC or San Francisco style ambiance. Overall, it's a nice trendy, yet relaxed place to enjoy a casual coffee date.
Exo recently starting serving a few small breakfast plates. Until noon, you can enjoy traditional breakfast plates using locally sourced eggs and produce. They also offer some tasty pastry treats including a delicious seasonal pumpkin muffin. Other benefits of visiting Exo include 50 cent refills on coffee (most Tucson shops do not offer refills), ease of finding side street parking, and great hours (open 7am-6pm). On one sour note, Exo offers some of the most uninviting customer service out of all the coffeehouses I frequent – there is definitely room for improvement in this category!
What to do nearby: There really is not much to do in the Tucson downtown area apart from dining and visiting a few small museums. Maynards (great baked eggs!) and Cup Cafe in the historic Hotel Congress offer the best breakfast plates downtown, as well as the most charming ambiance. If you are up for a bit of culture, check out the Tucson Museum of Art or scan the Fox Theater's (a gorgeous historic theater) website to see if there are any special events on the lineup.
Location: 403 N 6th Ave, Tucson, AZ 85705
Hours: 7am-6pm
Roadrunner Coffee
This cute little coffeehouse is a little bit less hipster and trendy than the 2 mentioned above, and thus, a great choice for anyone seeking a cozy, comfortable traditional coffeehouse experience away from all the crowds. The setting here is quiet and the decor is pleasant. Because Roadrunner is a bit out of the way, tucked away in a quiet strip mall, there are barely any crowds and it is easy to find a seat. They have the music on at just the right level so you can still hold a conversation or get some work done. The staff is always pleasant and willing to offer you any samples. The 100% fair trade coffee is absolutely delicious and they usually always offer an organic option for the extra health conscious.
Roadrunner was founded in 2004 by a Seattle family who wanted to bring quality Pacific Northwest style coffee to the Tucson area. Roadrunner offers all your typical espresso selections (the Americano is smooth and delicious), as well as a number of specialty drinks including the Marana mocha, which is a tasty sweet mixture of dark and white chocolate with a splash of mint). Non coffee drinkers can treat themselves to a number of caffeine free drinks such as smoothies, shakes, and tea. Lots of fresh pastries (including the most gigantic muffins I've ever seen), oatmeal, and small breakfast plates are available if you need to fuel up before hitting the trail or bike path.
Roadrunner is the only cozy coffeehouse in Tucson which actually serves good coffee in addition to providing that rare homestyle ambiance. There are several comfy couches – a major bonus as most Tucson shops only offer stiff uncomfortable seating designed to make you want to leave! The space is very clean and attractively decorated with all sorts of local art and the bright blue wall is eclectic and pleasing to the eye. I am not really a fan of the jewelry being sold and think they could spruce up the place with more Southwestern style art or some cacti plants, however, as a whole the space looks pleasant.
There is also a convenient drive-thru, however, I recommend taking a break and enjoying your coffee in the lovely setting. Personally, I think they should ditch the drive-thru and concentrate more on being a friendly local shop. On busy days, the baristas seem strained attempting to serve in house customers as well as drive thru patrons and the customer service becomes a bit sub par during these periods. Go to Starbucks if you want to pick up your coffee to go! Everyone is in too much of a rush these days! If you prefer to enjoy Tucson's mild winter climate, then take your coffee outside. The dog friendly patio is perfect for Tucson's milder seasons.
Hours at Roadrunner are perfect for those who want to get an early start, particularly if you want to get on the trails very early in the morning during the unbearably brutal summer season. Roadrunner is one of the only non Starbucks coffee options anywhere near Oro Valley. There is no reason to resort to common chains when you have nice local options like Roadrunner in the area!
What to do nearby: Recommended nearby activities include hiking at Catalina State Park (the best views in Tucson), hiking the quiet, easy Linda Vista trail, or taking a bike ride along the paved multi-use Canada del Oro Riverfront Path.
Location: 9665 N Thornydale Rd, Tucson, AZ 85742
Hours: 5am-5pm (Mon-Fri) and 6am-4pm (Sat), 6am-2pm (Sun)
Cartel Coffee Lab
Cartel is an Arizona specialty single origin, craft roaster with several locations throughout Tucson and Phoenix, including the main roasting facility in Tempe. The green beans, which are sourced from around the world, are roasted pretty bold, with sweet notes of chocolate and berry. The coffee is very flavorful and strong without any bitter type of aftertaste. Their espresso based drinks are always wonderful.
The menu here is smaller than most coffee shops, focusing on quality coffee drinks rather than a bunch of sugary lattes and mochas, although the mocha here is pretty fantastic! It is evident that the baristas at Cartel have been trained in proper coffee preparation. The cold brew is supposedly the best, although I prefer to drink my coffee hot, so I cannot attest to its' quality. On a downside, the drinks are all pretty pricey, however, you get what you pay for in terms of quality. There is no reason to visit a Starbucks in Arizona when Cartel is an option!
They always offer a number of enticing treats each day such as quiches and muffins. If you see the coffee cake pictured below, treat yourself to a slice – it's really delicious and homemade!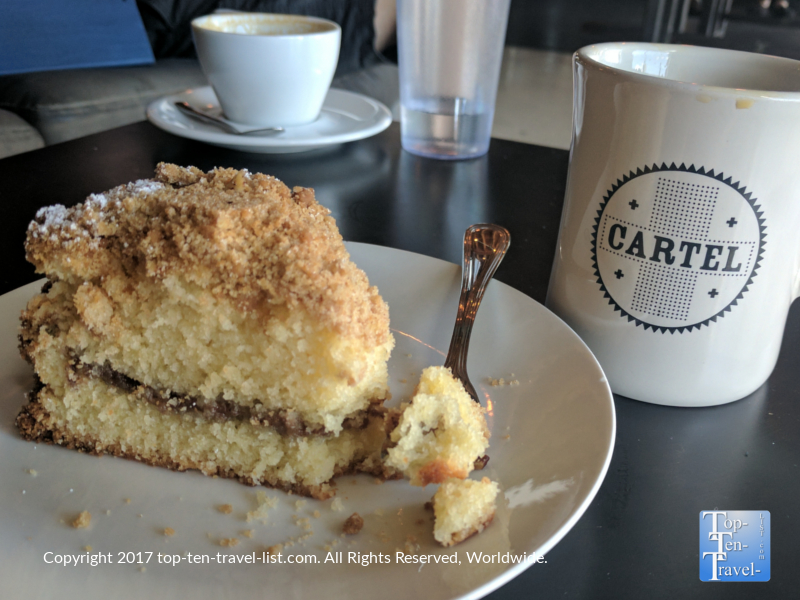 Each Cartel location is spacious and uniquely decorated. The downtown Tucson location is especially attractive with a really creative layout. Love the diversity in decor here, from brick walls, to cactus, to bicycle displays…it's a really creative space. Plus, there are big windows so you can people watch downtown. The vibe at all locations is very hipster and trendy like most modern coffeehouses today. The staff is always the nicest at the downtown location (a friendly barista once gave me some free coffee to test out at home) and it seems to receive less student traffic than Tucson's Campbell location.
What to do nearby: Stroll around the eclectic 4th Avneue shops (note: the area is a bit dingy but there are a few good shops to kill some time), play old-fashioned pinball games at D&D, or grab lunch at Reilly's Craft Pizza.
Location:  2516 N Campbell Ave Tucson, AZ 85719
Hours: 7am-10pm
Le Buzz
Le Buzz is a decent coffeehouse/breakfast place on Tanque Verde Rd., which makes it a good choice for anyone heading up the scenic Mt. Lemmon Highway. It's not my top choice due to the insane crowd levels and noisy atmosphere, however, it's the best choice if you happen to be going out this way and the coffee is pretty tasty.
Most people visit Le Buzz for their tasty breakfast fare and even more enticing display of fresh pastries (think Panera Bread with a bigger selection). On any given day, you will see lots of cyclists and hikers fueling up here. Le Buzz roasts their own beans and the resulting coffee is pretty smooth and delicious. A slice of Quiche (several meat & veggie varieties offered) is the perfect morning treat for those looking for a non sugary alternative to the bakery treats. Burritos, egg sandwiches, and egg tartines are also offered.
What to do nearby: As mentioned above, Le Buzz is the best place for coffee/breakfast for anyone on the way to Saguaro National Park, Mt Lemmon, or any other attraction out this way.
Location: 9121 E Tanque Verde Rd, Tucson, AZ 85749
Hours: 6am-3pm
Other decent shops to check out
Savaya – Both the coffee and service at Savaya is a hit or miss. Their roasts are a bit too strong and bitter for my taste, however, they are dedicated to using high quality organic beans and have convenient sample cups out to try out their daily roast. Depending on the day and who is preparing the espresso drinks, they can be amazing or just mediocre. And, they offer a few tasty seasonal drinks like the Peppermint Mocha and Pumpkin Spice Latte. I also appreciate the convenient locations which include one right across from Catalina State Park and another at the La Encatada Mall.
Yellow Brick – Yellow Brick is a fantastic local roaster, although they have dreadful hours (not open on the weekends, only open til 2 on weekdays!). Their coffee is absolutely delicious and if you can get out there early during the week, it's worth checking out! Beans are roasted in small batches to bring out the unique flavor and the result is pure deliciousness. I have only had the opportunity to try them out at the Farmer's Market due to their limited hours. Hopefully, they will expand to include weekend hours in the future.
Overrated coffeeshops
Brewd – Brewd is a convenient choice for anyone heading out to Sabino Canyon, Tucson's most popular tourist attraction and a great place to see lots of Saguaro cacti. I really wanted to like this place due to the convenience, friendly staff, and comfy seating. However, the coffee just is not good. The homemade Quiche and pastries are decent, so stopping for breakfast is recommended, however, the burnt tasting coffee is not good for those who drink their coffee black like me. In short, stop here for a quick bite prior to your Sabino Canyon visit, just skip the coffee!
Raging Sage – Raging Sage is another local's favorite in Tucson. However, like Brewd, the coffee has that burnt taste which I cannot stand, and thus, is one of the few places I have ever tossed a coffee. On the other hand, the mocha I tested wasn't too bad. They have a nice outdoor patio, so stick to the mocha based drinks and avoid the regular coffee. On another disappointing note, Raging Sage does not have wifi available until after 11am.
Caffe Luce -Caffee Luce is a University of Arizona hangout with 2 locations including one downtown. Tried the downtown location and was not at all pleased with the surly attitude of the baristas or the completely watered down coffee. Pass this in favor of nearby Cartel, which offers better service and much, much higher quality coffee.