25 Fun Things to do in Las Vegas (besides gambling)!
13. Pick up Beatles souvenirs at The Beatles Shop
Luckily for Beatles fans, The Mirage is home to a Beatles themed shop and bar due to the current production of Cirque du Soleil LOVE. The Beatles Shop is the ultimate shopping destination for Beatles fans and those shopping for obsessed family and friends. Inside the shelves are lined with every unique collectible you can imagine including magnets, coffee mugs, pillows, blankets, games, and even suitcases.
14. Dine like a king at a buffet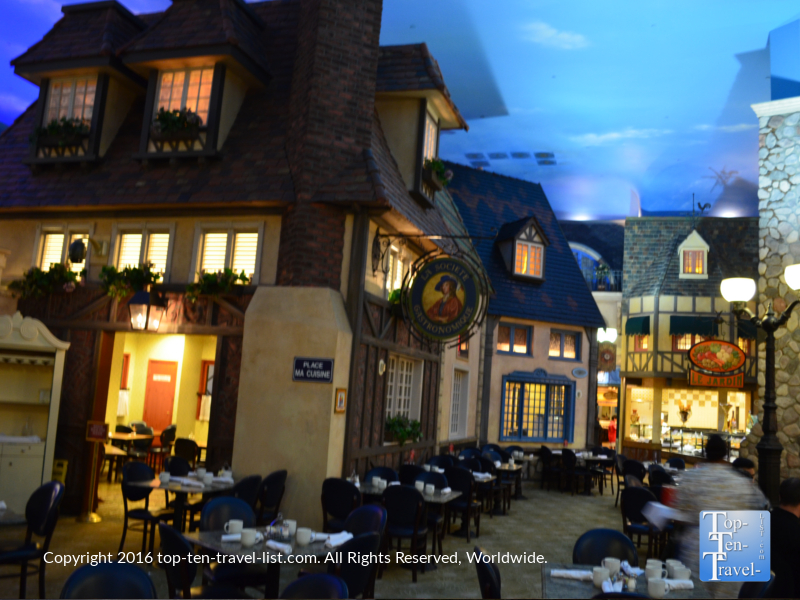 It's not that often that you enjoy a high quality buffet: unfortunately, most of the time you sacrifice quality over quantity. Fortunately, at most Vegas casinos, you do not have to sacrifice the quality. Vegas is a buffet lover's paradise – nearly every casino has one. Higher end options like the Wynn and the Bellagio offer a luxurious spread, from a champagne brunch buffet to special holiday offerings.
15. Stroll around the Wildlife Habitat at the Flamingo
The Wildlife Habitat is a relaxing place to enjoy a little much needed break from all the Strip action. A stroll around the Flamingo's gorgeous tropical inspired grounds will take you past waterfalls, Koi ponds, flamingos, and pretty lush tropical landscaping. It's a quiet nature oasis in a city dominated by man made entertainment. The best part of all is that this little rejuvenating activity will cost you nothing!
16. Gaze at the Strip while sipping tea
On the 23rd floor of the elegant Mandarin Oriental hotel, you will find an unusual tea lounge, one that offers panoramic views of The Strip! While enjoying a pot of loose leaf tea (or enjoying a full afternoon tea service), you will be surrounded by breathtaking views in every direction. This hidden gem not only offers one of the best views of The Strip, but also gives you the opportunity to sit back and recover before joining all the craziness again!
17. Try out a new coffee shop
Vegas is home to a number of unique coffee shops besides the usual chains like Starbucks. Why not relax and enjoy a break from the excitement with a hot espresso drink? The Roasted Bean, inside The Mirage Resort, offers a quaint setting with lovely tea and coffee inspired decor. It's a great place to meet up with family and friends for a break before deciding your next activity, or enjoying a little pick me up after a long night on The Strip.
18. Take a step back in time to the Pinball Hall of Fame
Go back to a time where cell phones, Ipads, computers, and video games were not the primary form of entertainment! The old-fashioned Pinball Hall of Fame Museum offers a 10,000 square foot room dedicated to Pinball machines, including many limited edition machines from decades ago. This place is an absolute blast, not to mention a refreshing change of pace from the hectic Strip! And keeping in line with the old-fashioned theme, games are only 25-50 cents a piece so you can enjoy hours of old time fun! The Pinball Museum is located about 10 minutes off The Strip, however, it is worth the detour!
19. Ride the rollercoaster at New York, New York
From this fun coaster, you can take in great views of The Strip (both day and night). After your exciting ride, you can enjoy the variety of games found in the arcade, including more of those fun claw machines than you could imagine.
20. Enjoy the fantastic architecture of Caesar's Palace
One of the most amazing hotels on The Strip, design-wise, is hands down the gorgeous Caesar's Palace. Just walking around this amazingly beautiful 14 story Roman designed hotel and taking in the all the gorgeous statues and fountains is an experience in itself. The faux starry sky at The Forum Shops is also a pretty sight.
21. Have fun at a nightclub
Vegas is just as much an entertainment destination today as it is a gaming hotspot. Every resort has its' fair share of bars/clubs. At The Mirage, you'll find a unique Beatles themed hangout called Revolution, featuring Beatles design, great music, cozy seating, and an upbeat setting. Don't worry if you do not like the music of the Beatles – many other hits from the 70's onward are played.