25 Bike Paths with Incredible Scenery
Flagstaff Urban Trail System
Location: Flagstaff, Arizona
Distance: 50+ miles
Flagstaff is a small Northern Arizona city, popular with athletes due to the high altitude (at 7000 feet, it is one of the highest located cities in the US). The Flagstaff Urban Trail System, known as the FUTS, is a network of over 50 miles of paved & unpaved trails spread throughout the city of Flagstaff. The trails are popular both with commuters and athletes. Many of the trails offer scenic views of the ponderosa forests and mountains.
Two of the most scenic options are the 2 mile loop around Buffalo Park, the city's most popular trail due to the panoramic views of the mountains, and a 6 mile trail at Fort Tuthill County Park, which is much quieter and provides never ending views of the ponderosa forest. Summer is the best time to plan a ride, due to the warmer temps (most of the year is much too cold & windy!), although you need to watch the forecast as monsoons occur frequently during this time.
Tip: Take it easy if coming from a low elevation area & keep hydrated with plenty of extra water.
Flatwoods Loop Trail
Location: Flatwoods Park in Thonotosassa, FL (Tampa area)
Distance: 7 mile loop
Within Flatwoods Park in the Tampa area, you will find a wonderful paved 7 mile loop trail known as the Flatwoods Loop. Biking or running this trail is a great opportunity to get into the fresh air for some healthy exercise far away from the man made suburban clutter surrounding the region.
Green trees line both sides of the trail for a shady, natural escape away from the city. The path is very easy and the miles will just fly by as you take in the beautiful scenery surrounding you. Even better, armadillos and gopher tortoises can often be spotted from the trail!
Tip: If you start at Bruce B. Downs, you will add an extra 4 miles or so to your ride for a total distance of around 11 miles.
Huntington Beach Bike Path
Location: Huntington Beach, California
Distance: 7.5 miles each way
Nothing says Southern California quite like a ride down the Huntington Beach Bike Path. With endless views of the Pacific, surfers, volleyball games in action, and fitness buffs of all sorts using the 7.5 mile trail, it really is the perfect summery California setting. With near perfect temps year round, a fresh ocean breeze, and sunny skies, it sure feels like summertime no matter when your visit falls.
This popular Orange County path tends to get crowded as bikers, skaters, walkers, and runners all share the same path, nonetheless it is worth it for the great views & fun beachy atmosphere. Along the way, you will find waterfront restaurants, snack stands, restrooms, and of course, direct access to the beach.
Tip: Visit on weekdays for a less congested biking experience.
Cape Cod Canal Path
Location: Buzzard's Bay in Cape Cod
Distance: 7 miles each way
This scenic 7 mile path in beautiful Buzzard's Bay passes through the towns of Bourne and Sagamore with fantastic views of the canal and the Sagamore Bridge.  For a free & fun summer activity in the Cape Cod area, it doesn't get much better than the Canal Path. The path is flat and easy, however, it can get really windy here, thus making the ride seem a bit tougher (your legs will get a great workout pushing through that wind!).
The best part of all is that the path ends at gorgeous Scusset State Beach, a known photography and seaglass hotspot. Take a break and stroll the shores of this quiet beach for a nice break before turning around.
Tip: Plan your ride in the summer. This path can be quite chilly in the spring/fall season, whereas the cool breeze is much appreciated on 80+ degree summer days.
Starkey Park/Suncoast Trail
Location: Hillsborough-Hernando County, Florida
Distance: 42 miles (Suncoast) + 6.7 (Starkey) one way miles
The Suncoast Trail is a 42 mile long trail on Florida's Gulf Coast, running from Hillsborough to Hernando County. A relaxing, heavily treed, 6.7 mile portion of this trail passes through Jay B. Starkey Wilderness park in New Port Richey. This trail is a nice quiet escape from the suburban congestion. It's flat and fast making it a great weekend leisure activity; you can sneak in a great workout without feeling like you overdid it. Wildlife can easily be seen on most days – watch for armadillos and turtles!
Tip: You can extend your ride outside of the park by continuing to follow the Suncoast trail.
Mission Bay Bike Path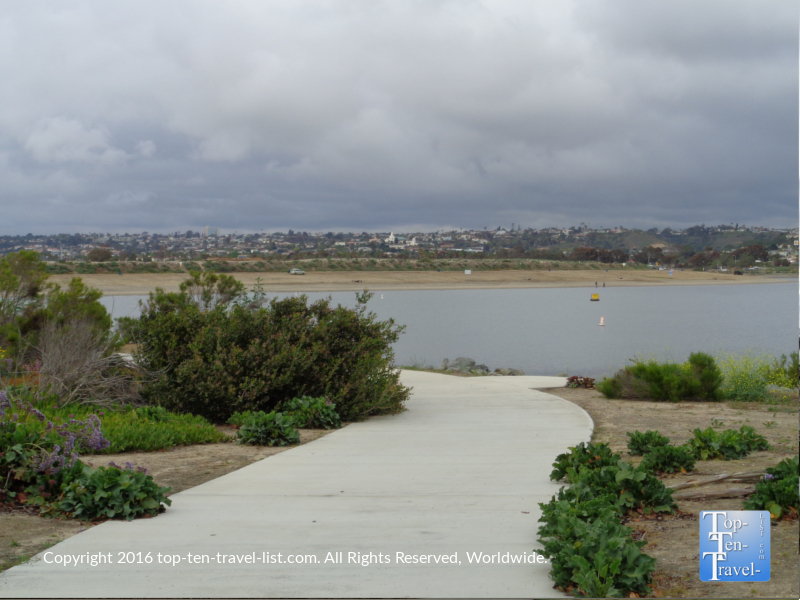 Location: San Diego, California
Distance: 12 miles for the full loop
San Diego's Mission Bay Bike Path is a gorgeous trail lined with water views and lush greenery. The full loop is about 12 miles and there are several trail extensions if you would like to make your ride longer. Detours to Mission/Pacific Beach, Seaworld, and Belmont Amusement Park can make this a fun all day activity. The ride is totally flat and smooth with only a few road crossings the further you continue past Mission Bay Park (home to an easy 4 mile section of the trail).
Lots of palms, green leafy trees, beaches, parks, and water views make this one scenic ride: a perfect sightseeing course! With San Diego's summer all year climate, lush greenery, and quick detours to the beach, the Mission Bay Path makes for a great activity summer as well as any other time of the year.
Tip: Add the Fiesta Island side trip, a quick, easy, & scenic ride around Mission Bay's undeveloped island.
Tips
*I always wear a GPS watch while biking just in case the trail isn't marked and also just to track the time and pace of the ride.
A hydration backpack works great for longer rides when you need a lot of water. These can hold several Liters of water and have extra pockets to store essentials so your pockets are not overloaded with junk.
*Plan your ride earlier in the morning for fewer crowds and cooler temperatures.
*I always eat before my ride and also store some extra snacks in my backpack just in case I need additional fuel.
*Stretch well after your ride before driving home. It's tempting to just jump in the car when you are exhausted after intense exercise. Be sure to stretch if only for a few minutes! Also use the dry sauna at your gym if you have one available.
*Treat yourself to a quality foot massager. I received this amazing foot massager as a gift from my mom a few Christmas's ago. It's a must for anyone who puts a lot of wear and tear on their lower body. It's my favorite treat after biking, hiking, and running.
Have you checked out any of these bike paths? What are some of your favorites?