25 Bike Paths with Incredible Scenery
A leisurely bike ride is a fantastic activity to incorporate into any vacation as it allows you to check out the beautiful natural surroundings of the area while also getting in a fun little vacation workout (as opposed to a boring treadmill workout at a hotel gym, or worse skipping the fitness altogether). These 25 trails listed below all offer some amazing scenery, whether it be fantastic views of the Chicago skyline, a leisurely trek through the gorgeous forests of Cape Cod, or a glide down the Pacific Coast. Enjoy the list and be share to share some of your favorite bike trails!
The Easy Bay Bike Path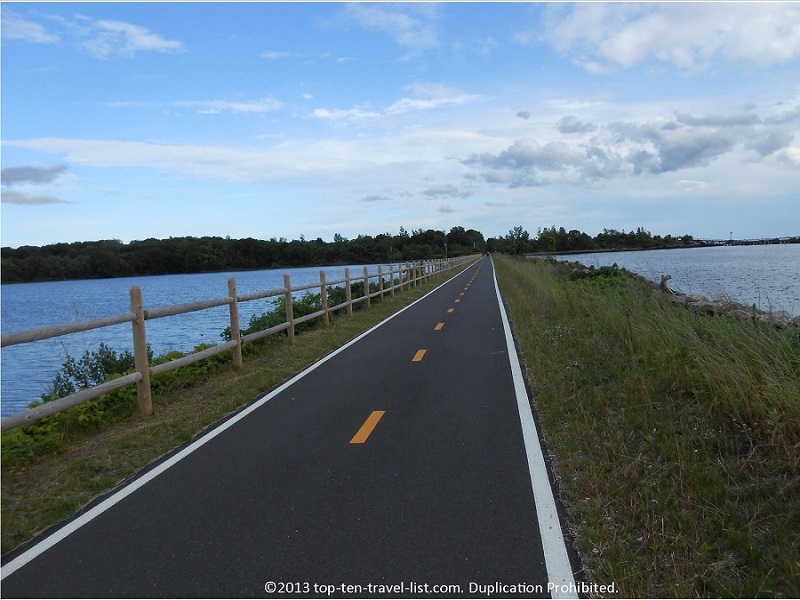 Location: Bristol-Providence, Rhode Island
Distance: 13.8 miles each way
This scenic paved path follows a former railroad trail from Independence Park in Bristol all the way to East Providence, providing 14 miles of easy, picturesque cycling. Along this leisurely trail, you will pass many attractive sights including the Providence skyline, a beautiful lighthouse, beaches and state parks, and best of all, tremendous views of Narragansett Bay for almost the entire journey.
It's such a gorgeous ride with never ending views of the crystal blue water, at times surrounding you on both sides of trail! For a clean, well-maintained, easy, uncrowded, & most of all picturesque ride in Rhode Island, look no further than the Easy Bay bike path.
Tip: Stop for a bite to eat at Aidan's Pub after your ride, conveniently located just a few blocks from  the beginning of the path. Great Irish pub fare & a beautiful outdoor deck.
Boise Greenbelt
Location: Begins near Barber Park in Boise. Easier access at Julia Davis Park.
Distance: 25 miles each way
The Boise Greenbelt is a relaxing, easy, heavily treed course that follows the serene Boise River. This path is over 50 miles in total, making it a nice choice for a long, leisurely weekend ride. With many fun city attractions along the way (Zoo Boise is a must-see), beautiful parks, and the occasional wildlife sightings (set off early in the morning and you are almost guaranteed to see some deer).
The path is clean and never overrun with too many people. Plan your ride during the fall season for great leaf peeping along the way, fewer crowds, and the perfect cool, dry weather. Even a mid-summer ride is still enjoyable due to the majority of the path being shaded.
Tip: Stop for a break at the Anne Frank Memorial and Zoo Boise.
Minuteman Bikeway
Location: Bedford to Cambridge, MA
Distance: 10.5 miles each way
The Minuteman Bikeway is a popular 10+ mile rail trail which follows the course of the old Lexington & West Cambridge Railroad. The journey is completely flat and lined with gorgeous leafy oak and maple trees. It's clean, well-maintained, & well marked. Bike, walk, or skate your way through 4 historic Massachusetts towns: Bedford, Lexington, Arlington, & Cambridge.
The best time to check out Massachusetts' most popular commuter trail is, without a doubt, during the peak of fall. Come October, you will be treated to amazing golden, red, and orange colored leaves in every direction.
From the Minuteman, you can connect to many other trails including the scenic Charles River Path. With the path being really flat & fast, you may just considering extending your ride and soaking in more of the gorgeous New England scenery.
Tip: Stop for some quick refueling snacks at Trader Joe's, conveniently located around mile 4.
Chicago Lakefront Trail
Location: Downtown Chicago on the lake
Distance: 18 miles each way
Chicago's best attraction is free & scenic, not to mention a fabulous workout! This summer, be sure to plan for a long bike ride (or run) along the fantastic Lakefront Path, the perfect summer activity for fitness buffs, city lovers, & nature lovers combined. For 18 miles, you will take in never ending views of Lake Michigan on an easy, paved, clean course. Offering some of the best views of the skyline & access to most of the city's top tourist attractions, there really is no reason not to check it out while in the Windy City.
Plan for stops at a Chicago Museum (The Field & Shedd are the best), Lincoln Park Zoo (it's free & beautiful), Buckingham Fountain, & Millennium Park (take some fun pics by the Cloud Gate sculpture).
A ride along the Chicago Lakefront Path doubles as both a fun fitness activity & an enjoyable way to take in the sights of the city in a short period of time. With easy detours to top attractions, a leisurely course, & picturesque views, it really is the best Chicago has to offer!
Tip: For a shorter, more scenic ride start near Millennium Park. Also be sure to head out early in the morning, preferably on a weekday, for fewer crowds.