15 Rainy Day Activities in Tampa Bay
If your Tampa vacation falls anytime between the months of June-October, your odds of getting caught in a rainstorm goes up dramatically. The wet season in Tampa can be unpredictable with afternoon storms occurring without much advance warning. If it looks like a storm may be brewing, you may want to hold off on your beach plans.
Fortunately, you do not need to let a rainy day put a damper on your vacation fun. While you may need to temporarily skip the beaches and preserves, you do not need to skip out on the fun. Below are 15 fun rainy day activities across the Bay.
1. Relax at a cozy coffeehouse
According to a recent Wallet Hub study, Tampa is quickly becoming one of the nation's best cities for coffee lovers. No matter what part of the Bay you are in, local coffeehouses are just as common as the big chains. No need to settle for a Starbucks when there are so many great local coffeeshops to support. A few great choices near the beach include:
Indian Shores – Excellent coffee and pastries, plus a breezy covered patio
Sweet Brewnette – Delicious breakfast fare and coffee, served in a cozy eclectic space featuring local art.
Belleair – 4th wave specialty roaster serving high end coffee and the best treats (try their Overnight Oats) in town. Huge airy space.
2. Take a stroll around the Tampa Museum of Art
It may not compare to the top rated art museums in Chicago, NY, or DC, however, Tampa's small art museum is impressive enough to warrant a visit. Exhibits include an interesting mix of contemporary and modern art pieces, plus Greek and Roman antiquities.
Strolling around an art museum is always a fun thing to do on a rainy day. Even better, this museum is located along Tampa's busting Riverwalk. Thus, you are within close proximity to numerous other cultural attractions and restaurants. Nearby is Armature Works, a mixed use industrial building which once served as a trolley barn. Today, the space is filled with a number of eclectic restaurants, coffeeshops, and bars.
3. See a show at the Tampa Theater
Catching the latest flick is always a good choice on a stormy afternoon. Even better than your standard boring AMC chain is enjoying a show at a classic theater. The historic Tampa Theater, a gorgeous Mediterranean revival which opened in 1926, has been rated one of the country's most gorgeous theaters.
Best of all, this theater runs a number of movie series where you will have the opportunity to see a classic film on the big screen, just as they were intended to be seen. If you missed your favorite film on the big screen the first time around, now is your chance!
4. Go old school gaming at Replay Amusements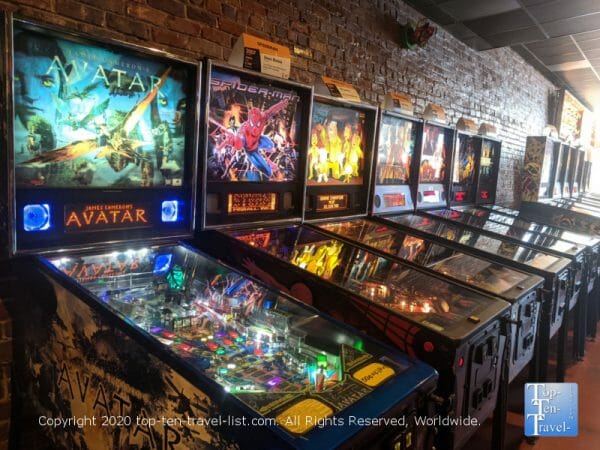 Plan a daytrip to Tarpon Springs to visit the best pinball museum in the area. Replay in Tarpon Springs is a super fun choice for anyone who loves old school gaming. So leave the cell phone at the hotel and enjoy a few hours challenging yourself to old fashioned pinball and arcade gaming. The $15 entrance fee lets you come and go as you please all day, so really a great deal.
As an added bonus, Tarpon is the Greek capital of the US, and thus, there are a ton of quality authentic Greek restaurants to choose amongst. Add in boutique shops which sell beachy décor and natural sponges (Tarpon is the sponge capital of the world) and you can easily eat up a few hours of time here.
5. Spend the day at Westfield Countryside
Clearwater's Countryside Mall basically offers everything and anything you could think of to waste away a rainy afternoon. In addition to housing the usual mall stores and restaurants (Cheesecake Factory, PF Changs, etc.), you will also find a number of unique amenities:
Ultimate relaxation – amazing place for a reflexology treatment
Tampa Bay skating academy – one of the city's only real ice rinks
Le Macaron – great coffeeshop serving homemade macarons
6. Dinner at Columbia Restaurant
A rainy day is the perfect opportunity to enjoy a long meal at Florida's oldest restaurant, Columbia. If you have time, take a drive out to the original Ybor City location which opened back in 1905. This is the largest Spanish restaurant in the world. The vibe is amazing with beautiful décor and live flamenco dancing shows ($8 cover charge).
If you wish to stay closer to the touristy beach areas, check out the Sand Key location. The beautiful waterside patio has earned this Florida gem its' place amongst the 100 most scenic restaurants in the US. Take a seat on the breezy covered patio and enjoy Cuban black bean soup, fresh Cuban bread, and paella.
7. Explore the Florida Aquarium
While a rainy day is not an ideal time to visit Zoo Tampa, it is a great time to plan a stroll around the Florida Aquarium. As one of the country's top rated aquariums, you will definitely want to consider a visit, even moreso if you are a fish lover. Lots of interesting marine life and exhibits within this 250,000 square foot facility including a unique jellyfish touch experience.
8. Soak away your stress at the Safety Harbor Spa
Safety Harbor, a small Gulf coast community about a half hour from Tampa, is said to be where, in 1539, Hernando Desoto discovered the Fountain of Youth missed by Ponce de Leon. Today, you can soak in the same healing mineral waters. Visitors over the years have noted an improvement in many ailments (esp. those to do with joints and muscles) thanks to the concentrated mineral content.
Book a spa treatment and you will receive complimentary admission to the spa facilities. All pools, spa treatments, and hot tubs are said to use the water. There are also drinking stations with fresh spring water. While you are here make a whole day out of it and enjoy the delicious breakfast buffet at Fountain Grill restaurant.
9. Enjoy an afternoon out at the Hard Rock Casino
Although the Seminole Hard Rock Casino is most well-known for its plentiful gaming opportunities, there's still plenty of fun to be had by non gamers. A great spa, an excellent buffet, and the legendary Hard Rock Cafe will give you more than enough options to escape the rain for a bit. Be sure to check out the Events Calendar to see if anything interesting is happening during your visit.
10. Get hands on at the Tampa MOSI
Tampa's premier science institute features a number of fun and interactive exhibits. There are lots of fun to be had here including more than 100 hands on experiences. The Saunders Planetarium offers a number of fantastic shows which use a star projector to simulate the night sky. I Wonder is another cool exhibit where you can learn more about physics, optical illusions, geology, and math via numerous interactive experiences.
11. Lunch at Rumfish Grill
If you ever watched Animal Planet's popular reality series Tanked, then you might remember the massive 220,000 gallon tank created for the Tradewinds Resort in St. Petersburg. Rumfish Grill, a popular touristy seafood restaurant near the beach, is now known for its' gorgeous colorful saltwater tank.
The entire restaurant offers a great view of this mesmerizing aquarium. After your meal you can stroll around the property and take a look at the smaller aquariums on-site. The menu consists almost entirely of seafood, so be ready to feast on everything under the sea.
12. Bowl and dine at Splitsville Luxury Lanes
Splitsville is the trendiest bowling alley in the Tampa metro. Instead of the heavy smoke and fried food typical at a standard alley, you'll find a nice clean space, modern music, and a delicious menu of specialty items. Overall, a fun space where you can kill a few hours inside away from the rain. They offer a number of special promotions, so be sure to check the website.
13. Dine & shop at International Plaza
The largest mall in Tampa offers a great mix of mid and upscale shops. The design of this mall is simplistic and modern, and really quite attractive. There is a nice Starbucks in the middle of the mall with a great seating area. Kahwa, a local coffee roaster, also has a spot inside the mall.
You will find the usual great chain restaurants like Cheesecake Factory, Brio Italian, and California Pizza Kitchen, plus a number of unique options including Rocco's, a Florida Mexican chain known for their tacos. All of the restaurants are located outside the mall in a nice little walkway lined with attractive outdoor patios.
14. Shop the largest collection of vinyls in the world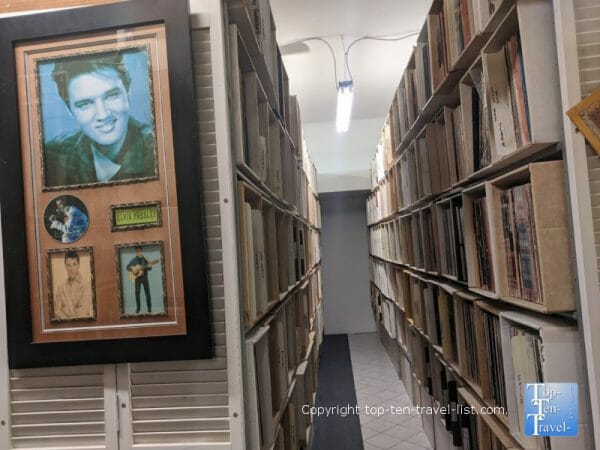 Banana Records in St. Petersburg offers 3.5 million records, making it home to the largest collection of vinyl in the world. As vinyl popularity continues to grow, people from all over the world come to Banana to search the extensive selection.
Whether you are an avid collector or simply appreciate the superior quality, a rainy day is the perfect time to browse the massive collection. There are 2 locations, with the larger housing more modern records, plus CDs and movies. The main location offers only records including rare to find gems.
15. Dinner and a movie at Cinebistro
Cinebistro, located in upscale Hyde Park Village shopping center, is Tampa's most exclusive place to enjoy a dinner and movie experience. Amenities include comfortable reclining seats, 21+ age min, and 4k digital production. The menu here is anything but basic, with options ranging from a Tuna Poke Bowl to a 14 oz NY Strip. They also offer desserts, specialty cocktails, and a full espresso menu. Of course, traditional movie snacks like popcorn and candy are also available.
Studio Movie Grill is a more affordable choice that is located closer to the beach if you prefer to limit the driving. The setting is a bit more laid-back, there is no age minimum, tickets are cheaper, and they offer a great meal special where you get 2 entrees, and app, and a dessert for just $30.
More indoor fun!
Explore the St. Petersburg museum scene – Most of the best museums in the Bay are located in this artsy city. Check out the Dali museum, dedicated to the works of Salvador Dali and the Chihuly, home to incredible glass blown art masterpieces. Also worth visiting – the James Museum of Western and Wildlife Art which features 500 works focused on the American West.
Treat yourself to an acai bowl – Acai bowls are all the rage today. Much more filling that smoothies and packed with even more antioxidants. These bowls include the power fruit acai, plus granola, fruit, and various toppings. Numerous choices near the beaches include Karma Juice Bar, Kaia Bowls, and Clean Juice Co.
Shop at Westshore Plaza – This huge mall features a great mix of budget and mid end shopping. The highlight here is a great selection of restaurants and coffeeshops. Maggiano's and Besito are excellent choices for dinner, while Cafe Luna is a lovely local espresso bar.
Check out Downtown Dunedin – Visit the Bay's most charming Main St. Dunedin is home to many local shops, restaurants, coffeebars, and even a small museum dedicated to the Beatles.
Essentials Massage of Palm Harbor – Best place for an affordable spa day. Great massages at super affordable prices, plus package deals.