10 Fantastic Fall Foliage Destinations
Myles Standish State Forest
Location: Plymouth County, Massachusetts
Why It's Great: 15 miles of hiking trails and 13 miles of biking trails are available for year-round use making it an ideal 4 season destination, With a diverse variety of scenery including ponds, cranberry bogs, pine trees, and deciduous trees, your eyes will never get bored. Additionally, the trails are always peaceful and never overcrowded.
Myles Standish is one of the nicest places for year-round recreation in Massachusetts. Here you will find a variety of hiking and biking trails, varying both in difficulty and scenery. The park is home to lots of beautiful pine trees and is home to one of the largest pine/scrub oak communities north of Long Island. You'll also get to take in some lovely fall foliage especially near the ponds.
I recommend the Reservoir trail as a great fall hike.
The main highlight of this park is that it is always so quiet and under crowded. It's almost spooky hiking alone in a desolate forest with a haunted history -an abandoned mental institution is rumored to be hidden deep within the forest. I am not sure why more people do not use this gorgeous forest more, especially locals who have such easy access to one of the state's best recreational areas.
Overall, a visit to Myles Standish is a must-do on any trip to the Southeastern portion of the state. The beautiful fall weather & foliage that Massachusetts is so well-known for, creates the picture perfect fall setting for any type of recreational activity.
More info on hiking at Myles Standish State Forest 
The Veit Springs Trail
Location: Flagstaff, Arizona
Why It's Great: It's less crowded that the more popular Snowbowl hiking trails. Hidden pictographs can be viewed from a side trail. Gorgeous golden aspens mix with ponderosa pines for a striking effect.
Veit Spring is located in Flagstaff, Arizona, a high altitude city in Northern Arizona known for its' magnificent fall season. The 4 season climate of the city draws many Southern Arizona residents every weekend in the fall, meaning that the trails with the best foliage can get very crowded. Veit Springs offers an interesting mix of ponderosa pines (Flagstaff is located in the largest ponderosa pine forest in the country) and golden aspens when the leaves begin to change. The trail is underused so you feel like you get to take in the beauty of the season all to yourself.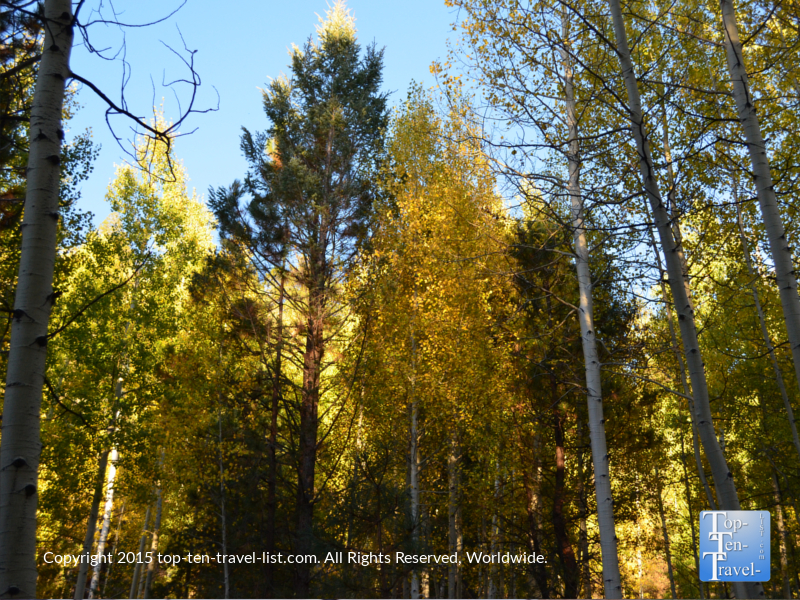 While not as magnificent as the Inner Basin, it is also less crowded, much easier (just 1.5 miles with no hills), and less of a hassle to get to (no long waiting line like Inner Basin, as well as a nice paved road to get to the trailhead). Also, there are some interesting sights to see along the way including a few ancient red pictographs which can be viewed by taking an easy side trail.